Item description: Double Sided Tissue Paper Tape White
Backing Material: Tissue Paper
Adhesive: Hotmelt
Release Liner(With/Without): With
Thickness: 0.07mm,0.08mm,0.09mm,0.10mm
Size: 10mmx15M

Color: White
Package: Blister card
Inner/Outer: 144Pcs/Carton
G/N weight: / Kgs
Meas: x x Cm
FOB Ningbo Price: $0.19/Roll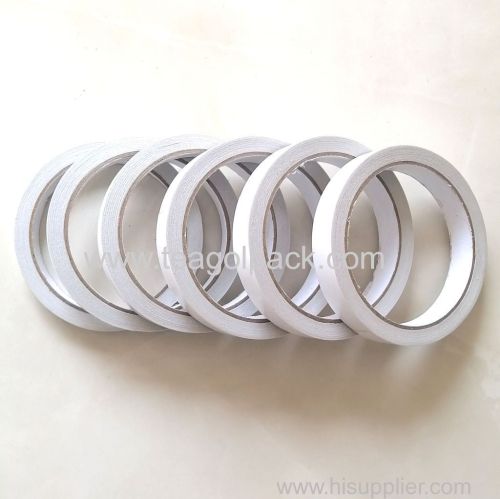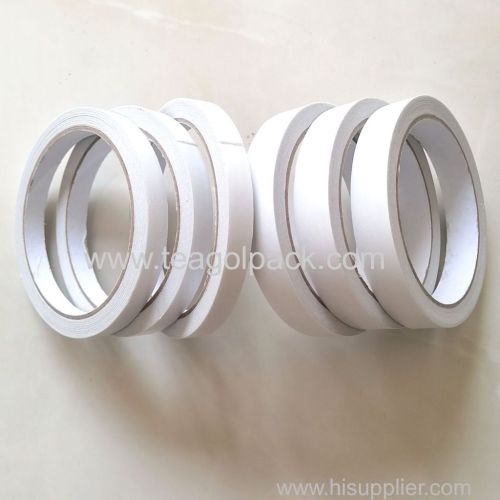 The 0.08mmx10mmx15M Double Sided Tissue Paper Tape is a versatile and reliable adhesive tape that offers a range of features to meet your bonding needs. This double-sided tape is made with a tissue paper backing and coated with a strong adhesive on both sides.
One of the key features of this double side adhesive tape is its thinness. With a thickness of just 0.08mm, it provides a low-profile and discreet bonding solution. This makes it ideal for applications where aesthetics are important, such as in the arts and crafts industry or for mounting photos or artwork.
The 10mm width of the double side adhesive tape offers flexibility and precision. It allows for precise application, ensuring that you can bond small or delicate items with ease. Whether you are working on a detailed craft project or need to attach small components, this double side tissue tape provides the perfect width for accurate placement.
The 15-meter length of the double side adhesive tissue tape provides ample supply for multiple projects. It ensures that you have enough tape to complete your tasks without the need for frequent replacements. This saves you time and effort, allowing you to focus on your work.
The strong adhesive on both sides of the tape offers a reliable and long-lasting bond. It adheres quickly and securely to a variety of surfaces, including paper, cardboard, fabric, and more. This ensures that your projects stay intact and withstand everyday wear and tear.
Ningbo TeagolPack Company is committed to providing high-quality products, and the 0.08mmx10mmx15M Double Sided Tissue Paper Tape is no exception. We understand the importance of having a reliable adhesive tape that meets your specific requirements, which is why we have carefully manufactured this product to deliver exceptional performance.
Whether you are a professional artist, a DIY enthusiast, or need a reliable adhesive for your office tasks, this double-sided tissue tape is a must-have. Its thinness, width, and strong adhesive make it the perfect choice for all your bonding needs.
Choose Ningbo TeagolPack Company's 0.08mmx10mmx15M Double Sided Tissue Paper Tape and experience the difference in quality and performance. Trust in our commitment to providing you with the best products that help you achieve your goals.