Item description: 12mmx20M 8PK Stationery Tape Set Clear
Size: 12mmx20M
Color: Clear
Package: 8rolls/Set,Shrink wrap+Customized Color Sticker
Inner/Outer: 48 sets

G/N weight: / Kgs
Meas: x x Cm
FOB Ningbo Price: $0.25/8PK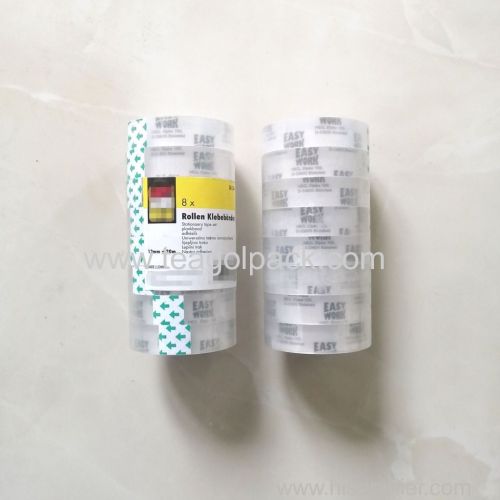 OPP Stationery Tape: Your Reliable Partner for Office and School Supplies
When it comes to office and school supplies, one essential item that should never be overlooked is the OPP Stationery Tape from Ningbo TeagolPack Company. This versatile OPP tape is designed to meet all your adhesive needs, making it a must-have for any workspace or classroom.
OPP Stationery Tape, also known as Office and Packaging Tape, is made from Oriented Polypropylene (OPP) film. This material is known for its high strength and durability, ensuring that your documents, crafts, and packages are securely sealed. With its excellent adhesive properties, this tape provides a reliable bond that withstands the test of time.
The primary use of OPP Stationery Tape is for sealing envelopes, packages, and boxes. It is perfect for securing your important documents, shipping parcels, or organizing files. Its transparent nature allows for easy visibility of labels or addresses, ensuring smooth and efficient handling. Whether you are sending a letter, packing a gift, or shipping products, this tape is your go-to solution.
In addition to its sealing capabilities, OPP Stationery Tape is also suitable for various crafting and DIY projects. Its strong adhesive properties make it ideal for sticking paper, cardstock, or lightweight materials together. Whether you are creating scrapbooks, school projects, or decorations, this tape provides a clean and neat finish.
Furthermore, the OPP Stationery Tape from Ningbo TeagolPack Company is easy to use and handle. It can be torn by hand, eliminating the need for scissors or cutting tools. Its smooth and noiseless unwinding ensures a hassle-free experience, saving you time and effort.
With its high quality and affordability, OPP Stationery Tape offers great value for money. It is a cost-effective solution that guarantees reliable performance and long-lasting durability. Stock up on this essential office and school supply and experience the convenience it brings to your daily tasks.
In conclusion, OPP Stationery Tape from Ningbo TeagolPack Company is your reliable partner for office and school supplies. Its superior adhesive properties, versatility, and affordability make it an essential tool for sealing, crafting, and organizing. Invest in this high-quality tape and enjoy a seamless and efficient workspace or classroom.
Ningbo TeagolPack Technology Co., Ltd.
Ningbo Teagol Adhesive Industry Co., Ltd.
Teagol Manufacturing Co., Ltd.
Factory Tax ID: 91330212583995213D
Factory Add: No. 1 Yun Lin East Road, Chen Heng Lou Industrial Park, Haishu District, 315176, Ningbo China
Showroom Add: No.155 of Baoquan Road, Yinzhou District, Ningbo,China